Dental implants are one solution for restorative dental care and an excellent replacement option that looks natural and feels as much like a natural tooth as possible. Dental implants may be used to replace a single missing or damaged tooth, or to restore a full smile. Implants are artificial roots anchored in the bone beneath the gums where they become fused into the jaw. Implants offer almost the same functionality as natural teeth and also prevent bone atrophy in the jaw. If you are considering implants, we can discuss the variety of options and help you make the decision that is right for you.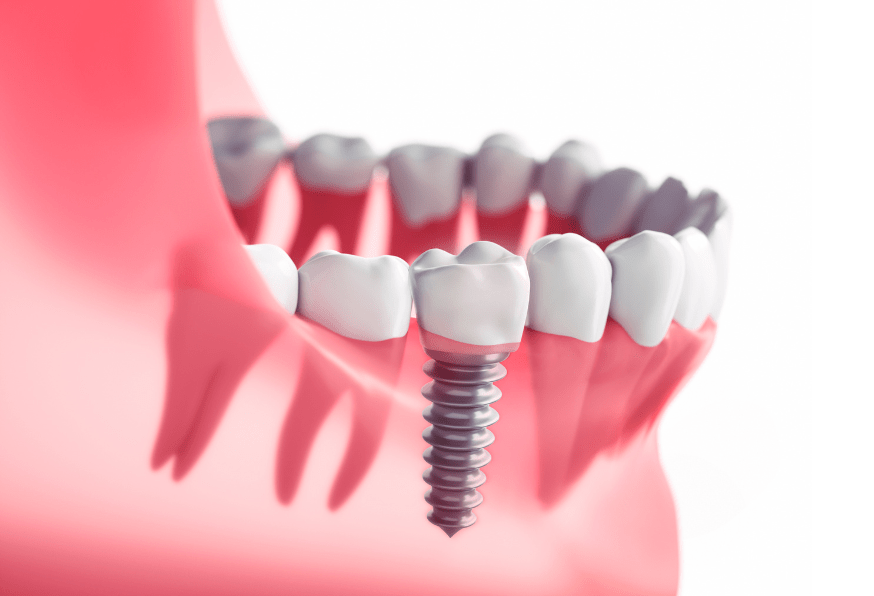 Can I be a candidate for the dental implant procedure?
To determine your eligibility for dental implants, we base it on if you have sufficient bone support and healthy gums. Bone support helps to develop proper attachment to the newly implanted material.
How does an implant procedure work?
A dental implant is typically made of titanium, a safe and physically powerful material that attaches firmly with your jawbone. After healing is complete from the implant placement procedure, we restore the function of the tooth by coupling it with crowns, bridges, dentures, or partials. This dental implant procedure replaces anywhere from one missing tooth with a single implant to multiple missing teeth with multiple implants.
Is the dental implant procedure painful?
Soreness should be expected, but it should not be a painful procedure, whether you receive your dental implant treatment at our San Antonio dentistry or with another local dentist. You can manage any possible discomfort with over-the-counter pain relievers for several days after surgery. We recommend that you follow the instructions to clean the surgical area thoroughly.
How long does the implant procedure take?
Dental implant procedures normally have four phases. The first phase is an evaluation and treatment plan. The second phase is the surgical procedure. The third phase is positioning the healing abutments, and the final phase is placing the crowns, bridges, denture, or partial dentures. Dental implant placement involves surgery — this process can last from several months to a year from beginning to completion.
How should I take care of my dental implants?
The best way to keep your dental implants in good condition is as simple as maintaining your natural teeth. Brush, floss, and have regular dental cleanings just like you do for your natural teeth. This will help you retain your beautiful smile. Reach out to us to receive affordable dental implants in San Antonio, TX!